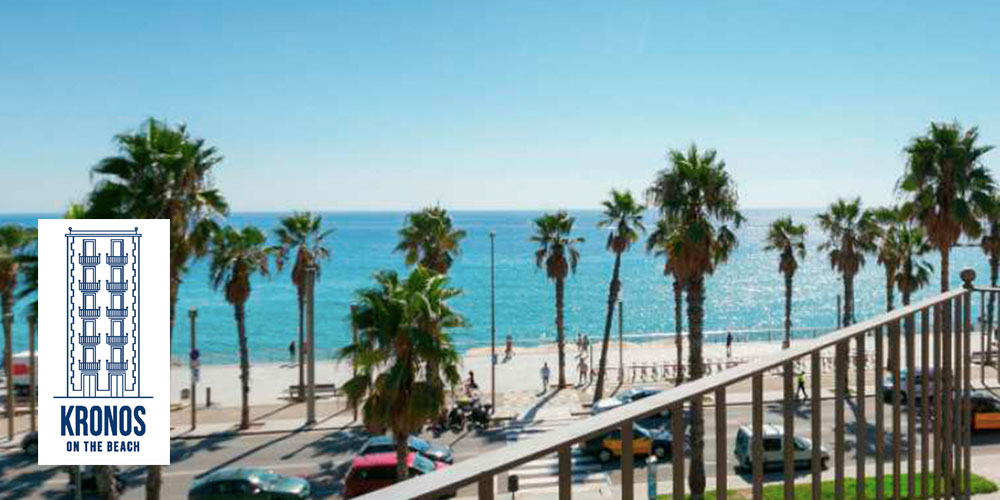 20 Jul

Kronos on the beach, the coolest beach accommodation in Barcelona

Surfboards, sailboats, and luxury yachts sailing the Mediterranean…it's an image that conjures up fantasy, but it's as real as it is exciting. Join us and explore one of the most vibrant, cosmopolitan neighborhoods in Barcelona, with a vitality that emerges from the sea and washes through all its streets. Ready to enjoy the 1,001 opportunities offered by La Barceloneta from the coolest beach accommodation in Barcelona? Here we go:

The charms of the past, the dynamism of the present

La Barceloneta has conserved elements of its seafaring history while simultaneously offering a full menu of leisure choices. Built by fishermen in the XVIII Century, this neighborhood combines the past and the present in perfect proportion. Next to a cutting-edge restaurant you'll find a hundred-year-old building teeming with residential life. And just a few meters from the local market, constructed in 1884, you'll find terraces offering every modern convenience. There's so much to admire among its narrow streets that you could spend the entire day wandering about. And you won't need to worry about getting lost, because the sea is your constant compass.

Expanses of sand and sunny afternoons

The longest beach in the city takes its name from the neighborhood of La Barceloneta, and it's a fount of joy 24 hours a day. You can sunbathe in peace and alternate sessions on the sand with dips in the water. If you're with the family, you can easily play with your kids in the sand, have a picnic, or rent bicycles to traverse the boardwalk. La Barceloneta is filled with a great diversity of people, and from so many different countries, that it's common to hear multiple languages being spoken anywhere you go. And at the end of your day, don't miss watching the sunset with a glass of cava. You can toast to the pleasure of having the Mediterranean at your feet.

Gastronomy, music, and the cable car: a different plan every day

Barcelona and its beach bars are intimately connected, so you can't miss the chance to try the great variety of food offered at these seaside establishments. A vermut with olives at midday, accompanied by a few tapas, is your first obligatory stop. For lunch, try a black rice paella, or a Catalan fideuà. You'll find as many restaurants and international menus as you care to seek out, and if you have a hankering, sample a gin tonic with some live music in the background. And if all you want to listen to is the sound of the waves, you'll find quiet corners as well.

Another perfect plan is to see La Barceloneta from the sky: take a ride on the cable car over to Montjuïc, the city's seaside mountain, where you can take incredible panoramic photos. Return to where you began, take a walk around the port, and get ready for a great night out among the bars, discos, and other leisure establishments around every corner. You're sure to make friends with people who hail from all over, because this is one neighborhood where you'll never feel alone.

A day of sport that begins in the sea

If after beginning your day with a swim you want to join a game of beach volleyball, there are always dozens of matches springing up throughout the day. Register for an intensive paddle surf course, or create your own running or rollerblading route on the boardwalk. Prefer to go by bike? There are loads of rental options. As you can see, you'll have every opportunity to exercise in the open air with the welcome ocean breeze accompanying you.

Luxury holidays in La Barceloneta

If you think walking around this neighborhood sounds fascinating, imagine feeling like a local while staying in an emblematic building just 50 meters from the shore. Kronos on the Beach is a registered Barcelona historical building whose façade maintains the charms of the past century. Once inside, however, you'll be pleasantly surprised by apartments that have been completely renovated and adhere to the most modern standards of sustainability. An oasis of sophistication with direct elevator access to each apartment, isolated from exterior noise, Kronos on the Beach is the epitome of luxury and also offers air conditioning and WiFi. Under the management of Lodging Apartments, the suites and attic apartment offer guaranteed maintenance, security services, and 24-hour reception. All you have to do is unpack your bags and prepare yourself for dream holidays, because anything you need, you'll get, thanks to Lodging.

And if you're concerned about health and safety because of the current situation, rest assured that Lodging goes over and above international standards in terms of cleaning and disinfecting our holiday establishments. Before you arrive, your Kronos on the Beach luxury apartment will be completely disinfected and cleaned and then locked for 24 hours before your arrival so that no one else can enter. When you open the door, you'll find that all surfaces, furniture, and kitchen equipment have been thoroughly cleaned for your exclusive use.

There's an apartment with sea views waiting for you this summer at Kronos on the Beach. Book now and let yourself be carried away by the pleasure of waking every morning to the Mediterranean with no worry but how to spend the perfect day between sand, sport, delicious food, and fun.