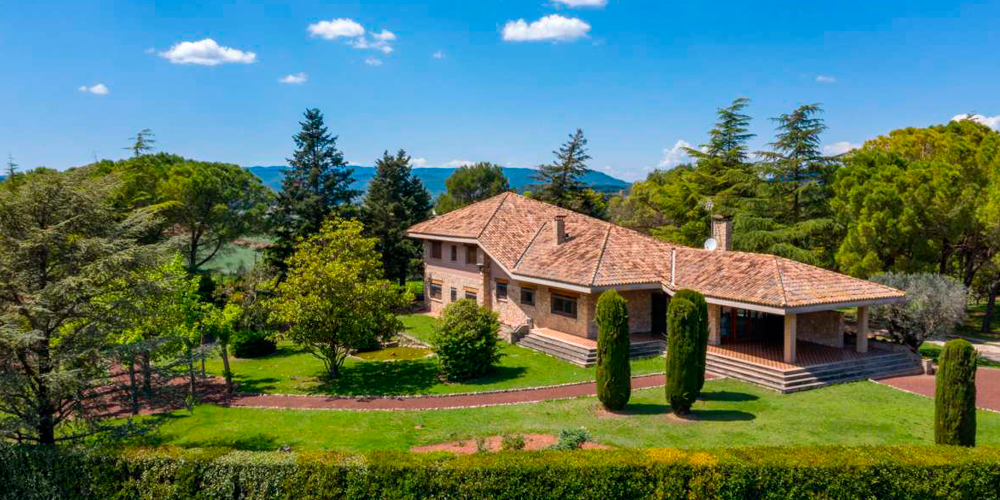 10 Apr

El Racó Rural Villa in Barcelona: sophistication in a natural setting

If you've been planning a legendary gathering for months but you're still looking for the perfect venue, a rural villa in Barcelona that's easily accessible and completely outfitted, look no further. Villa El Racó is a spacious and comfortable house that sleeps 15 people and is located right in the heart of Catalonia, in the Bagés region. With 7 bedrooms and 4 bathrooms, this villa has everything even the most discerning visitors need to feel at ease, while still being surrounded by nature. It's the perfect balance between the serenity that comes with leaving the city and the luxury of feeling at home. Built in the last quarter of the 20th century, El Racó not only has carefully furnished interiors, but also sports facilities, a swimming pool and an outdoor barbecue patio. Come visit and discover why this is the ideal place to spend some unforgettable days of relaxation in good company.

Privacy and comfort in every room

This rural villa near Barcelona can accommodate up to 15 people in absolute comfort in rooms distributed over two storeys. There are four rooms on the ground floor and three on the first floor, with a total of four full bathrooms. Careful decoration maintains the charms of a country house without forgoing the conveniences of modern appliances and amenities. Any stay at Villa El Racó is a true delight for the senses, with bedding made of natural fibers, calming colors throughout the interiors, and a marked presence of wood. The varied distributions of single and double beds in the different bedrooms facilitates the accommodation of couples and families without stress or difficulties, and an excellent Wi-Fi connection is always available for those moments when you can't miss a message.

Rest and entertainment guaranteed

A cozy fireplace is the central feature of the living and dining area, furnished with large sofas and chairs perfect for gatherings. Additionally, the basement offers a versatile and well-lit space that can be used as a games, meeting or dance room, as your needs dictate. And, to peacefully enjoy the landscape, there's nothing better than an aperitif on the terrace next to the gardens, or walking up to the solarium to see the incredible sunsets and privileged views over the mountains of Montserrat.

A variety of sports options

Outside the villa itself, the estate's seven hectares offer endless possibilities for recreation. The swimming pool has plenty of umbrellas and sunbeds, as well as a dedicated space for changing and showering. The barbecue area, covered and furnished, is just next to the pool, and perfect for grilling at any time of year. There's also a clay tennis court, an area to put up a volleyball court, and a gym room. And if you're a fan of yoga or guided physical activities, Lodging Management can provide you with the necessary equipment as well as personal trainers.

Start your engines

There's nothing better than spending a few days in the countryside getting to know your surroundings, and Villa Racó's strategic location on the outskirts of Santpedor will allow you to easily access the nearby forest, take a dining excursion, explore vineyards in the area, or go hiking. Located less than an hour from Barcelona, ​​this Catalan rural house is equidistant from the spectacular beaches of Costa Brava, the ski slopes of the Pyrenees, and the medieval towns of Empordà. And just a few kilometers away, you'll find Mura, known as one of the ten most beautiful villages in Catalonia, where you can visit the iconic Moreneta Virgin in the Montserrat monastery or enter the Sant Llorenç del Munt i l'Obac Natural Park with its famous caves.

There are so many ways to have an unforgettable holiday that you may have to visit this rural villa in Barcelona more than once. Explore it all and share extraordinary moments with the family and friends you most want to be with.