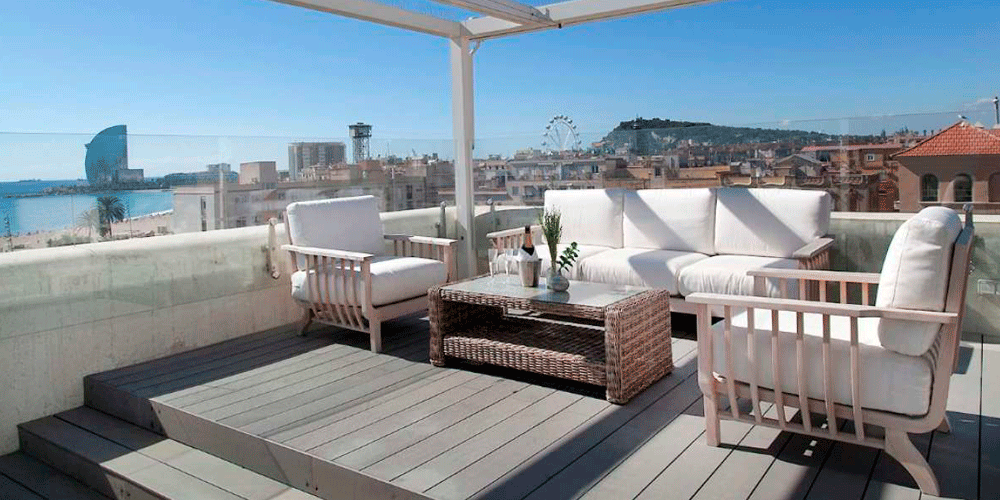 26 Sep

Enjoy a luxury apartment in Barcelona at the heart of Barceloneta

The humble origins of this 18th-Century Barcelona neighborhood, once a densely populated maritime area, won't prevent you from enjoying the best luxury apartment in Barcelona available today. Kronos on the Beach is a historic building 50 meters from the seashore in La Barceloneta. Renovated to the highest quality standards and blessed with every modern amenity, the building's location in one of the most cosmopolitan parts of Barcelona makes it the perfect place to enjoy the beach, relax, play sports, go out for drinks or try the best avant-garde cuisine.

Where "luxury" and "seaside neighborhood" blend to perfection

If you want a holiday rental in Barcelona that will give you an authentic taste of the city without depriving you of anything, Kronos on the Beach is your ideal luxury apartment in Barcelona. Don't let its 1884 façade fool you. The interiors of our tourism apartments in La Barceloneta have been completely renovated to the latest standards in sustainable architecture, and you will take notice from the moment you walk through the front door. A direct elevator to each apartment, thermal and acoustic insulation, air conditioning, WiFi, the latest in appliances… It's all here. And the apartments offer contemporary but cozy decoration full of details that will make you feel at home. In addition, the suites and the penthouse have maintenance, security and reception service on hand 24/7. You may never want to leave this luxury apartment in Barcelona.

A million plans, one neighborhood

These tourism apartments in La Barceloneta are very well connected to the airport and public transport, but if you prefer to stay in the neighborhood, you won't be disappointed. This is one of the most active areas in the city. Wake to the views of the beach from your bed and get ready to swim, surf, walk, or just lie in the sun or under a parasol at one of the beach bars. The Gothic Quarter is just a short walk away, the Hospital del Mar 500 meters, and if you really want a taste of Barcelona life, you can do your shopping at the neighborhood market, originally opened in 1884. And if fine dining is your passion, you're in luck. There are dozens of bars and restaurants in the neighborhood, where you can find anything from the most traditional fare and seafood (the famous La Bomba tapa was invented here) to the chic and avant-garde.

Exclusivity and authenticity. Luxury and city life. Fun and relaxation. There's no doubt about it: your best days await you by the sea in your luxury apartment in Barcelona.