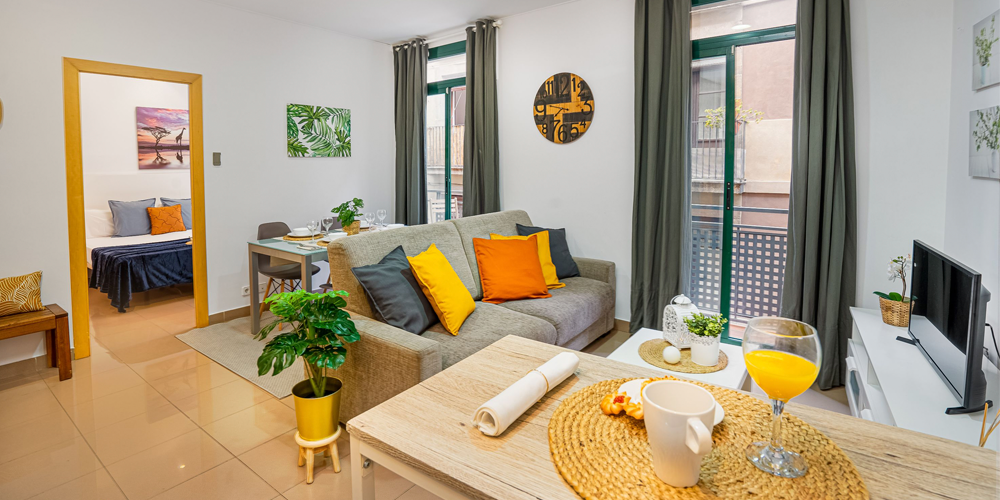 28 Feb

Holiday Rental Management Barcelona: The Best Options in the Center

Changes in the real estate market have motivated building owners to make strategic alliances with companies expert in holiday rental management Barcelona. Reliable companies, including Lodging Management, offer multiple advantages to those who have managed real estate assets in the past but do not have the capacity to deal with the new expectations of tourists or temporary stays. Having offices in Barcelona is a plus for the owner looking for personal contact with his providers close to home. In addition, our almost 20 years of experience in the management of tourism apartments in Barcelona guarantee our familiarity with the market and prove the trust conferred in us by the owners of our properties and their guests. If you still have doubts about why to delegate the care of your buildings to a specialized company, you'll find more reasons below in the descriptions of some of the buildings we manage.

Located in the center of Barcelona, ​​these buildings are responsibly managed, not only in terms of how we treat customers, but also vis-à-vis the neighborhoods where they are located. One of Lodging's steadfast principles has been our commitment to Barcelona and to the consolidation of tourism apartment rental as a vital, integrated, and positive economic sector. When visitors decide to stay in an apartment managed by Lodging, they will find themselves in a modern property that still conforms to the architectural norms of the neighborhood. Our spaces are integrated into their surroundings and Barcelona's impressive historical, cultural and social legacy. Here's some more information about three buildings in the heart of Barcelona managed by Lodging:

Casa Liceu, near La Boquería

Dedicated to monthly rentals, Casa Liceu is a building consisting of eleven apartments equipped with everything required for a long-term stay. Students, professionals and executives will find a calm and welcoming home filled with natural materials like wood. Equipped with an elevator, surveillance cameras and an intercom with a video camera to access each apartment, this building ensures the security and tranquility of its occupants. In addition, you can enjoy the best views of the Raval from each apartment's balcony or terrace.

Guests looking for holiday rental apartments in Barcelona with flexible services and excellent quality can pay a set price so they don't have to worry about deposits, minor repairs to the property, furniture, appliances or general maintenance. With the infrastructure covered, Lodging Management has created a community of tenants at Casa Liceu who enjoy the active social scene around La Boquería and Las Ramblas and, thanks to their positive reviews of their experience, attract new guests and maintain stable occupancy in the building and profitable returns for the property owner.

Raval building, blocks from the CCCB

Tourists who want to experience what it means to "ravalear" in Barcelona will love the Raval building. These are four tourism apartments and fully equipped and ready to receive guests who want to enjoy a few days of relaxation in the Catalan capital. Getting lost among the winding streets is your ticket to wonderful dining, modern museums like the CCCB, pedestrian areas, urban activity, and cultural diversity.

Within the building, the private elevator, air conditioning and guaranteed WiFi are the first elements of the property that stand out, as well as the terrace or balcony of each apartment. The decoration, which lets natural light into every corner, is a relaxing ambiance to come home to after busy days of tourism and exploration. This Lodging Management building is one in which guests feel at ease and have the peace of mind that comes with a 24-hour telephone service to resolve unforeseen issues or meet personal requirements.

City Center building, near the Sagrada Familia

Recently renovated, the five apartments that make up the City Center building offer all the amenities and furniture necessary to spend a few dream days in Barcelona. With the Lodging Management offices located on the ground floor of the property, visitors can easily ask for recommendations or make enquiries. Paseo de Gràcia, Rambla de Catalunya and Paseo de Sant Joan are within blocks of the building and make tourist attractions of great interest – such as the Sagrada Familia, La Pedrera and Casa Batlló – easily accessible. Modern and colorful decoration decks the interiors of these vacation rental apartments with high ratings on the top rental platforms. It's a sign of our outstanding dedication to our tenants throughout the year.

Because the modern traveler expects a private, safe and quiet space, Lodging Management works continuously to improve its services, remaining a leader in Barcelona vacation rentals and taking scrupulous care of the buildings that owners have placed in our hands.