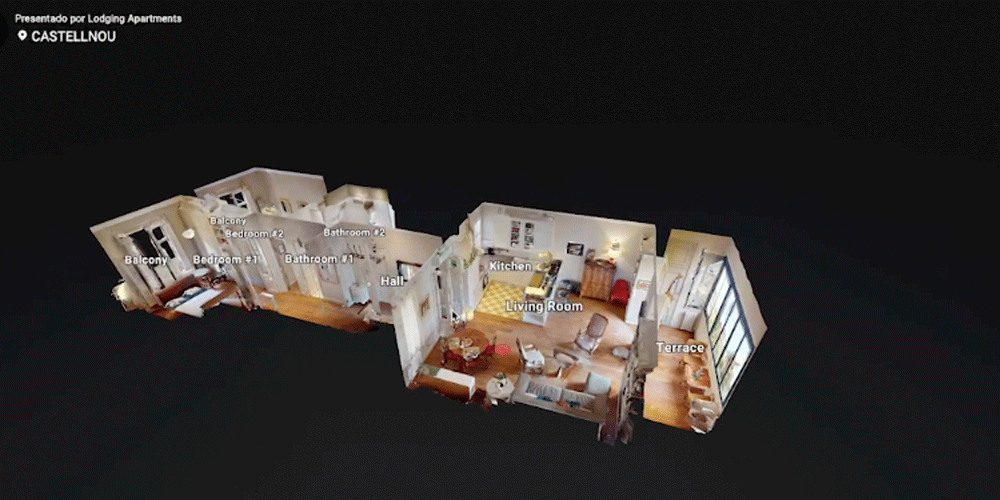 08 Dec

Matterport: technology in the service of short-term rental management

In the search for ways to facilitate short-term rental management of apartments, technology plays a fundamental role and opens up worlds of interactive possibilities. Two years ago, in the midst of the pandemic, the Internet became a window of opportunity for many sectors and companies, and Lodging Management was no exception. Producing 3D videos to advertise our catalog of accommodation was a fundamental step towards opening new business channels for our owners and, of course, communicating with potential customers. At that time, in the midst of the tourism crisis and with uncertainty at its peak, innovation was a risky bet, but with the help of other dreamers like us, it turned out to be very exciting.

The company Jotavirtual, specialized in creating virtual spaces from real ones, was our great accomplice in this adventure. It was thanks to their professionalism that we were able to move forward with the project. "Matterport" was introduced into our business language and our short-term rental management and our owners quickly understood the value of this tool for advertising their apartments to interested clients located in other countries or who planned to come to Barcelona as soon as the travel restrictions were lifted.

Redecorating, painting and in some cases, renovating were the first steps to make our bedrooms, living rooms, kitchens, dining rooms, bathrooms, balconies and patios camera-ready. Then came the detailed photos and finally, the implementation of the Matterport magic that would allow any user with a link to enter and explore every corner, making solid, informed decisions without having to be in the space physically. What may have seemed daunting at the beginning has ended up being greatly satisfying and successful at the commercial level. And today, we can show off our 50th video:

In addition to providing a fascinating virtual tour with precision, Matterport offers many more advantages:
Notes can be used in the videos to add comments about a space or the area in which the apartment is located.
Print-quality 4K photos, floor plans and guided tours can be added.
It can be shared via social networks.
It can be published on Google Street View, VRBO and Realtor.com.
3D space can be embedded on a website.
A person interested in a tourism rental apartment or a month-to-month rental apartment can take their time and explore all the details. Organizationally, our team can avoid multiple trips to show the same property and can also use the videos whenever they need to answer questions about square meters or space distribution. For Lodging Management, it's proved an invaluable technological tool in the service of short-term rental management of our apartments in Barcelona.